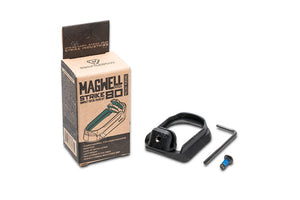 The Strike Industries Magwell For Strike 80 C is designed to provide easier reloading of the magazine while adding to the SI styling of the Strike 80. Keeping to the slender factory design of the pistol grip, the benefit of adding a funnel-like magwell to help prevent the dreaded reload bobble outweighs the added material of this Strike 80 Magwell. Add consistency and cut fractions of seconds off your reloads now with the SI Magwell For Strike 80 C while comfortably carrying your pistol on your hip or in your waistband. Compatible with most aftermarket magazine base plates and extensions including the Strike Industries EMP.
COMPATIBILITY: only Strike 80 C
NOT COMPATIBLE:
-any Polymer80 frames
-OEM 10-round GLOCK™ G19 base plate (underside of magwell will need to be modified to possibly work at your own risk)
WARNING: DO NOT OVERTIGHTEN set screw when installing the magwell. Overtightening the set screw will throw the magwell alightment off and also damage the magwell and/or firearm.