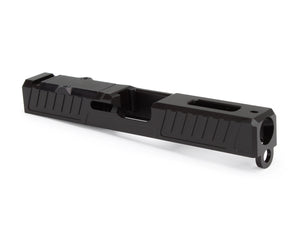 Zaffiri Precision aftermarket slide for Glock 19 Gen 3. Single billet 17-4 stainless steel slides are made with tight tolerances that allow an increase in accuracy and performance. 100% American made and manufactured (not outsourced as many others do).These are among the best aftermarket slides available for Glock. 


Features:
100%made in the USA
Machined from billet 17-4 Stainless Steel
Black anodized optics cover plate included
*IMPORTANT – This slide NOT ported compatible
Optics Cut:
Trijicon RMR / SRO and Holosun 407c / 507c and other popular "RMR footprint" optics – mounting position is in front of the factory location of the rear sight (dovetail remains behind the optic cut). Includes black anodized cover plate.
Slide comes with proper mounting screws specific to the optic. You must use the screws provided. Blue Loctite recommended for proper sight retention. Do not exceed optic manufacturer's screw torque specifications. 
DISCLAIMER: This product is not manufactured, authorized, endorsed, or warranted by GLOCK. GLOCK does not warrant or represent that this product is compatible with GLOCK pistols.